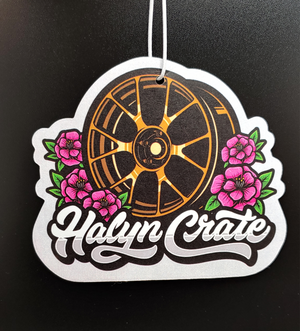 Halyn Crate Wheel & Flowers: Air Freshener
Show your love for cars with this Forest Rain scented air freshener! Our stylish design has made if from a t-shirt to an accessory for your car.
Forest Rain is a clean, slightly floral scent. It's not too strong to provide a subtle scent. The material of the air freshener is high quality and is smooth and soft to the touch.
Unlike other air fresheners, this one has the font displayed correctly on both sides and is not mirrored. So, it reads correctly however you hang it!