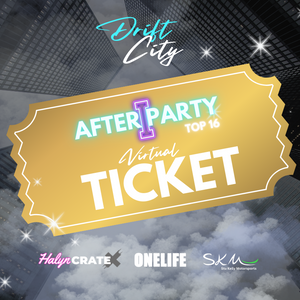 Drift City Virtual I - After Party Top 16 TICKET
18 spots will be available for purchase. 16 drivers and 2 backup drivers (backup drivers will receive a refund if they are not needed for the comp).
There will be no qualifying for this event.
We will have the Top 16 main event on a custom track with Gravy Garage cars.
After the comp will be the "After Party" drive and chat session.
A spectator-chosen rematch will be set up in which the winner will receive a $20 store credit.
*All entry fees go straight into the comp prize. Any additional fees for credit card payments and taxes are included in the purchase price.